Hello and Welcome. This website is dedicated to information on seminars for health and exercise professionals on the subject of safety in movement for persons with low bone mass (osteopenia) and skeletal fragility (osteoporosis). We travel nationally and internationally to bring seminars close to you.
We look forward to meeting YOU at one of them.
Sara M. Meeks, P.T., M.S., G.C.S., K.Y.T.

has been a licensed, practicing Physical Therapist since 1962,
has specialized in the unique management implications of persons with osteopenia and osteoporosis since 1984, and
has developed an evidenced-based, easy, effective, comprehensive, site-specific, 12-part program for the conservative management of persons with osteopenia, osteoporosis, postural problems and back pain.
In addition, she has been a certified Kripalu Yoga Teacher (K.Y.T.) since 1984 and has modified Yoga for safety in movement for people with bone health concerns.
Her program, designed to prevent, arrest and/or reverse the Patterns of Postural Change:
is based on optimal anatomical alignment, and
emphasizes strengthening of the back extensor and other core muscles, and
will take people "From The Floor To The Fitness Center" if that's where they want to go.
---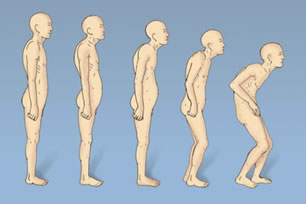 The diagram at the left represents The Patterns of Postural Change©, Sara Meeks' original concept, based on observations and assessments in clinical practice, of what happens to the human body as, but not because, we age.
The Meeks Method is a program designed to prevent, arrest and/or reverse this highly avoidable postural aging process.
---
The diagram below represents The Meeks Method 12-point program for a comprehensive approach to the management of osteoporosis, back pain, and postural dysfunction.
Testimonials

"There is not a day that goes by that I don't use something from your program."

C.P., P.T., Chevy Chase, MD